Aftermarket Parts Coordinator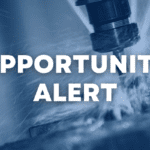 MRI Tallahassee
The company is a family-owned capital equipment OEM that services the industrial market and has a broadly diversified portfolio of products with revenues exceeding $2.6B. Believing the long-term success of the organization is driven by the talented people who support and lead their business, they have a strong employee focus. Built on the principles of safety, integrity, and hard work the company has a proven leadership team that has a long record of growth, loyalty and evolution that could provide security and growth for the right professional.
A qualified candidate will have:
Bachelor's Degree or equivalent work experience
Three (3+) plus years of experience as a Aftermarket Coordinator or Manager in an industrial equipment manufacturing operation
Commercial awareness with strong negotiating skills
Combination of being mechanically inclined with commercial acumen
Hands on working knowledge with Microsoft Office Suite (Word, Excel, PowerPoint, and Outlook)
Microsoft Dynamics (365) experience desired
Travel Requirements: Up to 50% (Domestic and International
We help build businesses. We form teams that will carry you forward. We are capable, technical, efficient, and effective.