Application Development Manager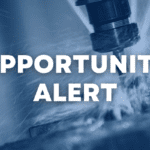 MRI Tallahassee
The company is a privately held contract manufacturing firm of composite components to the industrial, electronics, aerospace, and defense industries. The firm manufactures glass composite components using resin transfer molding, vacuum bag molding, and autoclave molding processes. This is a remote work position and must be near an airport.
A qualified candidate will have:
Bachelor's degree in engineering (Mechanical, Industrial, or related field) or equivalent technical experience.
Proven experience in technical sales in the composites industry, preferably in the glass fiber sector of the industry.
Strong knowledge of composite manufacturing equipment, processes, and technologies: Resin transfer molding, vacuum bag molding, autoclave molding and/or compression molding.
Excellent communication and interpersonal skills to effectively engage with customers and internal stakeholders.
Ability to understand customer requirements and translate them into technical solutions.
Strong negotiation and closing skills to secure sales contracts and agreements.
Project management skills to ensure successful implementation of customer projects.
Analytical mindset to assess market trends, customer needs, and competitor activities.
Proficiency in using CRM software and other sales-related tools.
Willingness to travel to customer sites as required (40-60%).
We help build businesses. We form teams that will carry you forward. We are capable, technical, efficient, and effective.