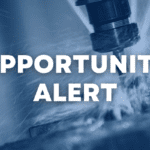 MRI Tallahassee
Design Engineer Needed for Plastics Manufacturer just outside of Philadelphia, PA
The company is a privately held contract manufacturer of innovative plastic solutions for the medical and healthcare markets. In business for over 70 years, they have developed a reputation for industry-leading expertise across a diverse set of injection molding, automated assembly processes, and technologies complemented by a full suite of value-add services, including design and prototyping. Due to significant growth, they have asked our team to identify a top-grade Design Engineer for their operation just outside of Philadelphia, PA.
A qualified candidate will have:
Bachelor's degree in engineering, or equivalent work experience.
Six (6+) plus years of experience developing a range of mechanical or electromechanical medical devices, preferably in the diagnostics or drug delivery space, under Design Control (21 CFR 820) and ISO13485 requirements.
Demonstrate strong 3D design for manufacturability and finite element analysis skills.
Expertise in molded plastic part design and understanding of mold and tooling design.
Proficiency in drawing interpretation and GD&T.
Expertise in CAD design software, SolidWorks and AutoCad preferred.
Relocation package available
We help build businesses. We form teams that will carry you forward. We are capable, technical, efficient, and effective.