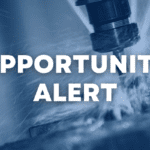 MRI Tallahassee
Maintenance Manager
Summary:
The Maintenance Manager (Injection Molding Facility) directs and coordinates the activities of maintenance personnel engaged in the repair, maintenance, and installation of machines, tools, and equipment. These maintenance activities are to be performed while maximizing safety, product quality, production output, and housekeeping to achieve assigned goals. This position is responsible for overseeing fall plant maintenance technicians & other maintenance personnel.
Qualifications:
5+ years' experience in Electrical, Hydraulic, and Pneumatic maintenance.

Must have experience with injection molding machines and robots; repair and maintenance required.
3+ years of supervisory experience in maintenance is required.
Experience in maintaining and repairing support equipment such as resin dryers, chillers, grinders, robots, sonic welders, and air compressors.
Ability to repair and maintain all plant equipment and diagnose problems.
Must have the ability to read, write, and do mathematics.
Able to read and interpret mechanical blueprints on both electrical and hydraulic prints.
Ability to specify materials needed for repair.
Duties and Responsibilities:
Review job orders with the General Manager and Plant Manager to determine work priorities.
Schedules repair, maintenance, and installation of machines, tools, and auxiliary equipment to ensure continuous production operations.
Coordinates activities of workers fabricating or modifying machines, and auxiliary equipment to manufacture new products or improve existing products.
Directs maintenance activities on utility systems to provide a continuous supply of heat, electric power, air and water chiller, and tower required for production.
Develop a preventative maintenance program in conjunction with maintenance staff.
Inspects operating machines and equipment for conformance with operational standards.
As directed by process improvement and Engineering, implements new methods and procedures designed to improve operations, minimize operating costs, and effect greater utilization of labor and materials.
Requisitions tools, equipment, and supplies required for operations.
Confers with management, engineering, and quality control personnel to resolve maintenance problems and recommend measures to improve operations and conditions of machines and equipment.
Coordinates with Human Resource Manager to maintain compliance with all OSHA regulations.
Maintains all environmental regulations concerning handling, recycling, eliminating, or disposing of hazardous materials.
Please contact Kathy for more details at Kathy@mrrecruiter.com or call 850-542-1927
Maintenance Manager
South Bend, IN
Salary Range: $90,000-$100,000
Permanent/Full-Time/Exempt
We help build businesses. We form teams that will carry you forward. We are capable, technical, efficient, and effective.