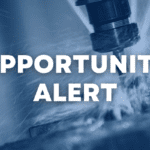 MRI Tallahassee
METAL FABRICATOR
Overview:
Our client in Troy, AL is looking for an experienced Metal Fabricator to join their team. This position will be working in a highly regulated environment and SAFETY must come first.
Qualifications:
– Proven experience as a metal fabricator or similar role
– Proficient in reading and interpreting schematics, blueprints, and codes
– Strong knowledge of metal fabrication techniques and processes
– Ability to operate press brake machines, machining tools, and plasma-cutting equipment
– Experience with ductwork fabrication is a plus
– Familiarity with welding techniques and soldering
– Strong physical stamina and ability to lift heavy objects
Responsibilities:
– Read and interpret schematics, blueprints, and codes to determine project specifications
– Rig and fabricate metal components according to project requirements
– Operate press brake machines, machining tools, and plasma-cutting equipment
– Assemble fabricated metal parts using various techniques such as welding or bolting
– Perform quality checks to ensure finished products meet standards and specifications
– Maintain a clean and organized work area
– Safely operate forklifts and other material-handling equipment
Note: This job description is not intended to be all-inclusive. The employee may be required to perform other related duties as assigned.
Job Type: Permanent/Full-time (Mon-Fri) Some weekends few times annually
Hourly Range: $20-$30
Benefits:
401(k)
Dental/Vision/Life Insurance
Flexible schedule depending on temperature (Example: 5am-1pm or 7am-3pm)
Health insurance
Paid time off
Please reach out to Kathy with any questions.
kathy@mrrecruiter.com
850-542-1927
We help build businesses. We form teams that will carry you forward. We are capable, technical, efficient, and effective.