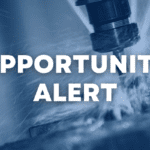 MRI Tallahassee
The company is a privately held contract manufacturer of innovative metal solutions for the aerospace, automotive, and nuclear markets. In business for over 50 years, they have developed a reputation for industry-leading expertise across a diverse set of metal stamping, finishing, and assembly capabilities completed by a full suite of value-added services including design and prototyping. Due to their growth, they have asked our team to identify a top-grade Metal Stamping Engineer for their operation in the Los Angeles, California area.
In this role you could expect to be responsible for designing progressive and progressive dies. You would also develop, evaluate, and improve manufacturing methods.
A qualified candidate will have:
High School Diploma or general education degree (GED)
3 years of experience designing, troubleshooting, and optimizing metal stamping dies for production.
Knowledge of GD&T, tooling design, assembly methods, and tooling/production equipment capabilities.
It would be a plus if their next candidate has experience with 3D modeling, preferably SOLIDWORKS or LogoPress.
We help build businesses. We form teams that will carry you forward. We are capable, technical, efficient, and effective.