Operations and Facilities Manager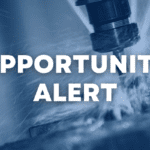 MRI Tallahassee
Operations & Facilities Manager
The Operations and Facilities Manager is responsible for overseeing custom and proprietary injection molding operations and all equipment and facility-related maintenance activities plantwide. This includes ensuring planned objectives are met or exceeded (i.e. OEE, OTD, SMED, SPC, and Lean 6s). Provides leadership by creating an environment of highly engaged and accountable employees focused on continuous improvement and customer satisfaction.
Job Requirements
6+ years of plastic injection molding and maintenance experience in either a high volume or high-mix / high-complexity environment requiring various levels of automation, scientific molding, and secondary processes.
Proven leader who can build ownership across all areas of the department; assess talent and provide opportunities for increased responsibilities/advancement.
Understanding of Standard Cost, P & L, and variance reporting.
Must be able to understand blueprints, hydraulic schematics, and wiring diagrams.
Poses a working knowledge of heating, electricity 110, 240, 480-volt AC systems, 24-volt DC systems, and other related machine componentry such as cartridge valves, variable displacement pumps, servo drives, etc.
Familiar with preventative maintenance activities connected to air compressors, vacuum pumps, electric motors, hydraulic pumps, tower water systems, and electric ovens.
Understanding of ISO 9000, GMP, OSHA, and EPA regulations is required.
Working knowledge of lean, Six Sigma, kaizen, scientific molding, SPC, SMED, and other continuous improvement initiatives.
BS in Plastics/Polymer/Mechanical or Industrial Engineering discipline, business/manufacturing or related field or the equivalent in similar plastics manufacturing experience.
Job Responsibilities
Initiate and maintain a rigid preventive maintenance program on all equipment and building functions based on the manufacturer's recommendations. All preventive maintenance records shall be kept in IQMS, and plans shall consist of activities required between checks: daily, weekly, bimonthly, semi-annually, and annually.
Determine and maintain a sufficient inventory of spare parts to ensure minimum interruption to machinery and plant operation. Inventory to be accounted for with a location within IQMS.
Provide leadership to maintain production standards, scrap rates, and cycle times and minimize machine downtime to achieve OEE rates greater than 45%.
Interact with other manufacturing departments, Product Quality, Materials, Engineering, and Account Management to ensure customer satisfaction.

Responsible for improving departmental set-up/start-up and color change processes.

Hands-on knowledge and experience with scientific injection molding processes, quality, tooling, and materials management systems.

Set achievable production goals and follow through with weekly supervisor meetings.

Resolves manufacturing and maintenance issues to ensure minimum cost, maximum efficiency, and the prevention of operational delays.

Submit requisitions for tools and supplies used in maintenance activities.

Maintain equipment records using IQMS MRO.

Contact salesmen, suppliers, and servicemen through any type of communication necessary.

Initiate a safety check program based on the manufacturer's recommendations for all machinery and equipment.

Oversee employees in the Maintenance Department. Responsibilities include interviewing, hiring, identifying gaps, and training employees; planning, assigning, and directing work; appraising performance; rewarding and disciplining employees; addressing complaints and resolving problems.
Employment Type: Permanent/Full Time/Exempt
Location: Southern Cleveland, OH Area
Salary Range: $110,000-$130,000
Please reach out to Kathy with any questions about the position at Kathy@mrrecruiter.com or 850-542-1927.
We help build businesses. We form teams that will carry you forward. We are capable, technical, efficient, and effective.