Process Technician/Set Up Technician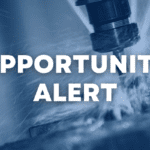 MRI Tallahassee
The company is a privately held contract manufacturer of innovative plastic solutions for the medical and healthcare markets. In business for over 70 years, they have developed a reputation for industry-leading expertise across a diverse set of injection molding, automated assembly processes, and technologies complemented by a full suite of value-added services, including design and prototyping. Due to significant growth, they have asked our team to identify a top-grade process engineer for their operation in the Buena, NJ area.
A qualified candidate will have:
High school diploma or general education degree (GED)
Three (2+) years of related experience as a Process or Set-Up Technician in an injection molding operation
Thorough knowledge and understanding of producing products with molds, mold, and packaging equipment.
2+ years of experience working in a manufacturing environment using Injection or Extrusion Blow Molding mold machines.
We help build businesses. We form teams that will carry you forward. We are capable, technical, efficient, and effective.