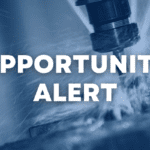 MRI Tallahassee
The company is a privately held contract manufacturer of plastic solutions for over a dozen industry applications. In business for over 5 decades, they have developed a reputation for industry-leading expertise across a diverse set of injection molding, automated assembly processes, and technologies complemented by a full suite of value-added services, including design and prototyping. They have asked our team to identify a top-grade Process Engineer for their operation in Miami, Florida.
A qualified candidate will have:
High School diploma or general education degree (GED), or Bachelor's Degree in Engineering (ideally Plastics).
Five (5+) years of related experience as a Process Engineer in an automotive injection molding operation.
Highly skilled in plastic injection molding process optimization using data-driven metrics.
RJG Master Molder 1 certification and experience using RJG E-Dart Hardware and Software.
Ability to train other Process Technicians and support ongoing efforts in precision cycle time reduction and process capabilities.
We help build businesses. We form teams that will carry you forward. We are capable, technical, efficient, and effective.