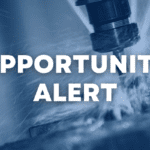 MRI Tallahassee
Tooling Program Manager
Overview:
The Program Manager is the primary customer service advocate and champion and ensures the customer has a world-class experience during the new business development phase.
Qualifications:
Must have experience managing projects that involve injection-molded plastics

Experience launching new programs with Tier I automotive suppliers or automotive customers is highly desirable

Must have strong tooling and some design background

Must have experience with 3D CAD modeling software (Solidworks)

Must have experience working alongside clients and manufacturing teams while developing products

Bachelor's degree in engineering (preferred), manufacturing engineering, or business or technical equivalent.
Duties and Responsibilities:
Assume accountability for enhancing the customer experience, adhering to project timelines, and achieving set deliverables. Coordinate efforts across the organization to support customer needs, project goals, and overall objectives.

Maintain active involvement throughout all project phases, spanning from initial project allocation to the secure launch phase.

Lead collaborative efforts within cross-functional teams, overseeing the Advanced Product Quality Planning (APQP) process.

Coordinate and facilitate comprehensive design assessments and gain approval from the Tooling Director, promoting effective cross-functional communication.

Deliver comprehensive tooling solutions, systems, and production processes to the operations team, ensuring the resolution of functional and dimensional concerns before the Start of Production (SOP).

Ensure the attainment of cost targets, including Bill of Materials (BOM) costs, tooling expenses, engineering expenses, and Engineering Change Order (ECO) budgets.

Regularly update customers on project timelines

Actively participate in all tool samplings

Supervise the validation of overseas tooling through runoff processes before granting approval for tool shipment.

Travel as necessary to support customer demands visit suppliers for tool quality oversight, and ensure alignment with project schedules and customer expectations.
Benefits:
PTO
Holiday Pay
Health, Dental Vision, Life
401K with match
Opportunity for growth/career development
Classification: Exempt, Permanent, Full-time
Location: Indiana
100% on site
Salary Range: $90,000-$110,000
We help build businesses. We form teams that will carry you forward. We are capable, technical, efficient, and effective.