The Impact of the CHIPS and Science Act
On August 9th, 2022, President Biden signed the CHIPS and Science Act, pushing for advancement in the manufacturing space.
The Act was signed with the intentions of "investment to surge production of American-made semiconductors, tackle supply chain vulnerabilities to make more goods in America, revitalize America's scientific research and technological leadership, and strengthens America's economic and national security at home and abroad" (House Committee on Science, Space, and technology). The CHIPS and Science Act will greatly affect the plastics, metal, and rubber industries moving forward. The newly signed bill authorizes:
NASA to invest in research and development for advanced materials and manufacturing processes
The creation of a technology program to develop new materials- which includes composites
The investigation of supply chain vulnerabilities to make more goods in America
Overall, the main goals of the bill are to:
Build a diverse STEM (Science, Technology, Engineering, Math) workforce
Strengthen America's manufacturing capabilities
Revitalize science and innovation
Supply Chain Issues Resolved?
For our industries, we are eager to see the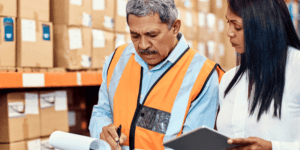 effects the CHIPS and Science Act will create. Supply chain issues have become one of the biggest challenges within our industries. The CHIPS and Science Act can uncover the vulnerabilities in our supply chain and move the states to more domestic infrastructure.
The Future of Manufacturing
As recruiters in the manufacturing space, we see how promising a career in the manufacturing field can be. This new act is revitalizing the industry and bringing awareness of manufacturing careers back to schools. In Title 2 of the CHIPS and Science Act, funding and support will be used to bring domestic manufacturing opportunities to traditionally underserved populations, while also creating new competitively awarded institutes. The future of manufacturing relies on the next generation's interest and access to the space. The CHIPS and Science Act can bring attention and funding back to the STEM fields to advance manufacturing processes and careers.
A career in manufacturing has never been more promising. Last month, we discussed the possibility of 400,000 new manufacturing jobs being created in 2023 due to reshoring. If you are considering a career in manufacturing or a career change within the manufacturing space, reach out to one of our recruiters to hear about our current opportunities and the career path you could pursue.
We help build businesses. We form teams that will carry you forward. We are capable, technical, efficient, and effective.