Ask Us About Contract Staffing
Throughout 2021, staffing companies hired a total of 14.1 million temporary and contract employees.
From a recruiter's perspective, we do not see this number dropping anytime soon. What we all learned from the COVID-19 Pandemic is that you never know what could happen. Contract staffing was one of the big solutions for our economy during this time, and the rate of employment for temporary hires has only increased.
For many, temporary staffing is usually associated with seasonal retail and commerce employees, but it has become a prevalent solution in all industries with lasting success. It can cost a company up to 30% of the employee's salary when making the wrong hiring decision. With culture being one of the biggest characteristics a candidate is assessing in a potential employer, companies cannot afford to hire the wrong candidate.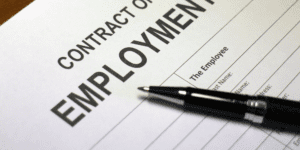 Candidates are starting to seek out temporary staffing. The appeal comes from the ability to work for a trial period and see the culture and working environment, while 20% said the flexible schedule drew them into contract work. Candidates are beginning to see the benefits of contract work and millions are actively seeking temporary roles. Companies that begin incorporating more contract work into their business will be ahead of the curve. While millions of jobs are on the market already with temporary work options, more and more companies are starting to engage with the idea of more contracted staff.
Kathy Hedrick, MRTs Contract Staffing Manager, describes contract work as a "plug and play" for employers who want to try a candidate out and move on when the time is up. Contract Staffing can be the solution for many common workplace issues, such as:
A strict deadline that needs to be met. Hiring extra qualified employees to meet time-sensitive deadlines relieves pressure off current staff but will also keep costs low.
Special, unique project that needs skilled help. Sometimes a business is facing issues but does not have the right person in-house for the solution. Bringing in an employee to solve a unique issue or for a specialized short-term project is a solution provided by temporary staffing.
Solving the issues of increased workloads. An employee needs to take an extended period off (maternity leave, family emergencies, health complications), so other employees are feeling the weight of their work. Hiring a contract employee can solve these issues. This also can be used if workloads increase during busier times of the year. Contract staffing is a great way to prevent burnout and keep worker morale high.
Controlling costs and staying within budget. Bringing in extra talent can keep costs low and production moving along. Over time, overworked employees, unorganized processes, and missed deadlines all cost money. Bringing in short-term talent solves these issues and alleviates pressure.
Contract staffing also has other benefits for both employees and employers. The risk of joining the wrong company or hiring the wrong talent is averted and the time to onboard, interview, and hire are typically much shorter. MRT has been offering contract staffing services for many years now, but with our new team member, Kathy Hedrick, we hope to grow our division even more and expand to meet our clients' and candidates' needs.
If you are interested in the benefits of contract staffing or have questions regarding temporary workers, please do not hesitate to reach out to Kathy.
Kathy's info:
O: 850 542 1927
M: 229 869 2529
kathy@mrrecruiter.com
We help build businesses. We form teams that will carry you forward. We are capable, technical, efficient, and effective.