Jazmyn Dennis's Many Titles: Project Recruiter, Personal Trainer, and MBA Graduate
Running her own business, graduating with a master's degree, and working full-time at MRT. We are here to celebrate our Project Recruiter, Jazmyn Dennis, and her impact on our team.
 Jazmyn Dennis, Project Recruiter, joined the team in January of 2021 and has worked hard ever since. Jazmyn started learning the ins and outs of the recruiting business and sourcing possible candidates. Now, she works closely alongside Craig McMillan, one of our Co-Owners, to reach out to potential candidates about open opportunities. She plays a vital role in connecting our recruiters and clients with top talent. She consistently keeps our recruiters updated on possible candidates.

Busy Schedule
While maintaining a full-time position, learning the process at MRT, and assisting our recruiters in their talent searches, Jazmyn continued her education and received a master's degree in May in Business Administration. During this time, she also continued to coach and run her business, JD Athletics, a track and field training program in Monticello, Florida. After the pandemic hit her track and field team hard at Florida State University, she built a runway and pit at her home to continue to practice. When word got out, it became a training facility for everyone in the Big Bend Area.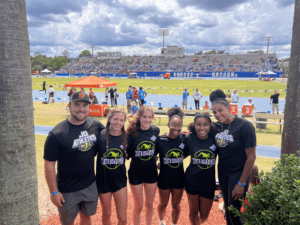 Jazmyn continues to coach, work full-time at MRT, and run a business of 30+ athletes with a specialization in pole vaulting. She would like to use her degrees in Sports Management and Business Administration to eventually open her own indoor facility in Tallahassee, Florida. Currently, the closest training facility is in Birmingham, Alabama. Jazmyn loves to teach kids about the sport she fell in love with and still trains for today.
Jazmyn says her busy schedule is a handful, but she "wouldn't change a thing". She says it has taught her how to lead a balanced life and to apply what she was learning in the classroom directly to her business. She advises, that starting and building your own business should be something you love and want to grow and learn every day.
Her Endeavors at MRT
We are lucky to have Jazmyn at MRT and are excited to see the success she will have while working alongside Craig McMillan. Jazmyn shares that starting at MRT has opened many opportunities she did not know existed. She loves working with other successful individuals which inspires her to excel in the industry as well as gain knowledge on how to better her own company.
If you are interested in the work Jazmyn does outside of MRT, check it out here:
We help build businesses. We form teams that will carry you forward. We are capable, technical, efficient, and effective.